Since the month of september 2010 I have been traveling the world while trading 1-2 hours a day on my laptop.
And when I mean the world, I mean catching a plane from Miami to Kyiv, Ukraine.
Why am I successfull while 98% of Forex traders loose?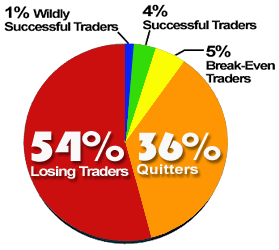 I have a plan, and I have an edge. All you need is 50% +1%. Or 51% ;). Many people compare trading to casino gambling. Well Casinos make money because the best success % a player has is maybe 49% on the Roulette. They make money on that 51%. If you use some logic and you have  a methodic trading, you can increase that chance of winning to 60, 75 or even 85%. I always say that trading is like being a cop in real life, most of the time you will be waiting… for the opportunity. You want to be the guy that makes money out of the pocket of others who don't know what they are doing. One very big example of this is gap trading, especially people on the wrong side of the gap ( check my video article here = how-to-trade-forex-gaps-difference-between-novices-and-pros )
Make no mistake, I believe that a successful trader will never have to sell or ask for "donations" because, ahem, he is already making money on the markets. What I know is that trading is a tough job. So if this blog can pay for my lunch while im sitting in a terasse on the Croatian coast, why not? Never be close minded.
So i guess this is a little bit of an about page for me. Check out my blog regularly because I will post more and more personal informations about my trading. Again there are some personal strategies that I just cannot share, but I wish to pass a lot of knowledge from my experience.
I just made a post with my travel photos , hope it will give you a little push in the back too 😉
http://www.forextradingnomad.com/photos-from-my-travels/