How to choose a forex broker? It can feel like the wild west and if you really want to make a profit out of forex, this is the most important choice you have to make.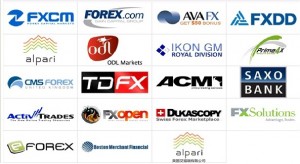 Before trading forex full-time, I was already in the stock/option market so I already knew what to look in a broker. But the foreign exchange market is a quite a bit different, so i wrote down here bullet-points how to choose the best forex broker for you.
 Smallest spreads. This is probably the most important factor since this will affect your profit. The spread is the difference between the Bid and the Ask price. When you take a long position you pay the Ask price, when you Short, you pay the Bid price. Also when you close a position, it's the opposite. So in effect you will pay 2 times the spread in a trade, to get in and then to get out. Compared to the equity market (stocks for example), most Forex Brokers don't ask for commissions. Note that you should only be trading "major pairs" unlike the swedish krona or south africa rand, for the simple fact that you cannot a have tight spreads on these "exotic pairs" so the risk to getting positive is higher and you cannot leverage too much (spread will use your margin quite a bit). Here for example are the spreads I pay with my personnal broker :
Leverage / Margin . The forex market is known for offering very high leverages. This is what attracts most traders, because it is possible to make quick money starting from a small account (100$ for example), but keep in mind you can loose everything also quickly. Anyways, as you guys know I am a daytrader / scalper so I enjoy high leverage because I take very quick trades. 1 for 100 is the minimum leverage you should consider. The margin requirements usual go hand in hand with leverage.
Funding and Withdrawal Methods. Most brokers will make it very easy to deposit funds into your account, with credit cards for example, but what's important is how to withdraw your money. Sometimes it's only possible by bank transfer (wire transfer) and that means it takes times and your personal bank will charge you something like 25$ to receive the money. If you are starting forex with a small account balance this is simply unpractical. So I suggest choosing a brooker who accepts e-payments systems for withdrawal such as alertpay, moneybookers, etc… The transfers should also be automated, meaning they are done within 24h. Even if you don't plan to withdraw some money soon, knowing that you have full access to your money at anytime is important.
Trading platform.  Most brokers will be offering some kind of web based platform or java platform and a MT4 software (metatrader). To be honest with you metatrader is not the quickest thing out there (for requotes or slippage for example) but the support is extremely high meaning you have tons of free custom indicators and robots online. It never crashed on me too. So MT4 is a good generic choice, it should be offered for free with your account tho.
Customer support.  Let met tell you that even with the best forex broker you will find yourself asking for support many times. Basically the broker should offer Live Chat with a person from the trading desk or for your personal account. When you are dealing with money, you cannot wait for a email answer.
Now here are few forex brokers that I used in the past, and that I would be able to recommend :
PS: note that for Hotforex if you are EU residents the maximum leverage is 30, there are no PAMM accounts, loyalties and bonuses and the minimum deposit is 50 eur.