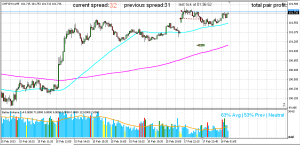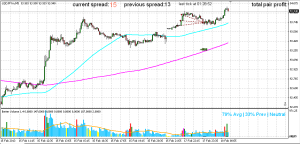 Another very slow sunday that turned quite big.
There were no major gaps, and to be perfectly honest, I wouldnt recommend trading on a day like that.
The fact that the trades were made on the Yen, is even more risky due to their recent monetary policy. The gaps on CAD, USD or EUR pairs are more safe, since we enter the asian session first, and the European/American session much later.
As you can see in the screenshots my exits are almost perfect, probably only a matter of experience.
Heres are some tips:
I prefer taking small averages instead of one big large trade.
When in a nice profit, I usually close half of my positions to cash-in a little bit
I dont accept going negative after I was in the money by a good margin, wich explains the close of CADJ at breakeven.